Eat Like a Local- Nurturing Taste of Nagaland
By Nmami Life Editorial 20-Jan 2021 Reading Time: 5 Mins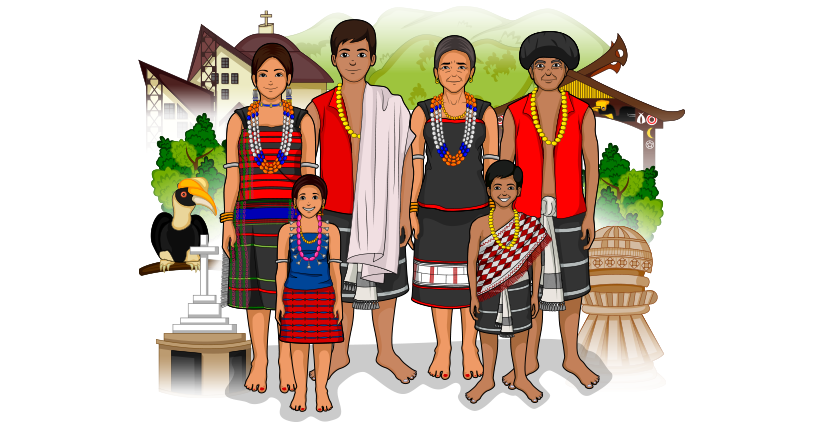 Nagaland is one of the states located in the North-eastern region of Indian. It is not only popular for its beauty but also its food. Different types of tribes have unique traditions. In Nagaland, a variety of things are still done traditionally. Naga's diet includes rice, boiled vegetables, any kind of meat, and some authentic spicy chilli sauces. As they are very traditional people prefer to eat food with their hands.
Some authentic and popular Naga dishes are:
Dried Pork- Naga makes their kitchen outdoors as fire is considered an important component of cooking. A bamboo bed is a layer below and pieces of neat including bot beef and pork are hung to slowly dry them out above the high flames. It is kept there for weeks and then it becomes ready for consumption. Pork or beef becomes crispy on the outside but just saturated with an intensely delicious smokiness that goes good along with rice.
Smoked Pork stew- it is usually the second part of dried pork in which the pork is chopped into small pieces and then allowed to boil in a soup containing potatoes, tomatoes, and chillies.
Dry bamboo shoots with pork- Pork is generally fried with the authentic Naga dry bamboo shoots. It is then added with a lot of chillies. The traditional bamboo gives a beautiful aroma and intense flavour.
Boiled vegetables- These are a basic item that is added to every meal and is generally prepared without seasonings. They are served along with rice, pork, and Naga sauces. They make up an important part of the Naga diet.
Bamboo steamed fish- Bamboo is used in a lot of dishes in Nagaland as it grows everywhere in Nagaland and has many different uses. The most common way of using them is to cook using bamboo tubes. The fish are mixed with spices, are filled in the hollow of the tube and then placed in the fire to cook. After the cooking process, it is emptied and served rice and chilli sauce.
Beans mix- Talking about the vegetarian dishes, this healthy mixture includes beans, tomatoes, peas, cabbage, and other Naga ingredients. A strong chilli sauce or curry is eaten alongside it to balance the flavours.
Bitter melon- The melon is boiled and added with chilli sauce that makes it very delightful and brings a delicious taste to the dish.
Chicken rice soup- It is prepared by cooking the chicken in a glutinous rice sauce and served along some chilli sauce to provide that extra flavour. This soup is extremely soothing, warm, and comforting.
Kong Shia Lon- El Chilli sauce is a different assortment of chilli sauce that can be served along with main meals and or garnish. This sauce has an excellent flavour and is added with garlic, chillies, and salt.
Naga ghost chilli sauce- Another sauce has a miraculous blend of spices and contains 4 Naga ghost chillies that are enough to make it tear flowing spicy. This chilli sauce tastes like a perfect blend of onions, mashed beans, garlic, herbs, and Naga ghost chillies.
Over to you:
Nagaland is a traditional state with authentic cuisines that are extremely delicious and must be tried once!