Fruitful Pizza
By Nmami Agarwal 15-Sep 2021 Reading Time: 2 Mins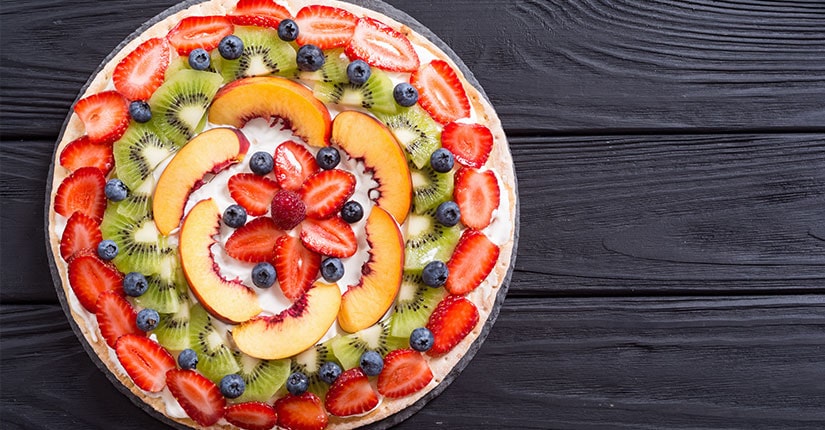 Summer brings along some exciting and refreshing summer fruits to beat the summer heat, and this watermelon pizza is all you need. It can be easily made in less than 10 minutes and can be enjoyed either as a snack or as a dessert. This pizza is quite low in calories and is the perfect way to increase fruit intake.
Nutritional benefits:
Strawberries are rich in vitamins and minerals such as Vitamin C and K. These are low-calorie, fiber-rich, and abundant in antioxidants and polyphenols. Bananas are rich in magnesium which is a great workout snack. Blueberries are high in antioxidants and help in fighting diseases and are low in calories.
Ingredients:
15 grams yogurt
10 grams strawberries
20 grams banana
1 teaspoon honey
20 grams watermelon( 1 slice)
15 grams blueberries
2-3 mint leaves
1 teaspoon lime juice
Calorie count
Per Serving:

Nutrition Info
Amount
Calories
60 kcal
Carbs
14.2 grams
Protein
1.3 grams
Fats
0.4 grams
Method:
Take a bowl and whisk lime juice, yogurt, and honey together.
Take a thick watermelon slice and cover it with yogurt dressing evenly.
Then add in the chopped fruits and mint leaves and serve
Over to you:
If you are bored of eating fruits every day in the usual way, make it fancier by trying this pizza recipe. Different fruits of choice can be used as a topping. It is loved by kids and is a great way of adding fruits to the diet with a twist.