Hearty vegan borscht Beet soup
By Nmami Agarwal 01-Jan 2020 Reading Time: 2 Mins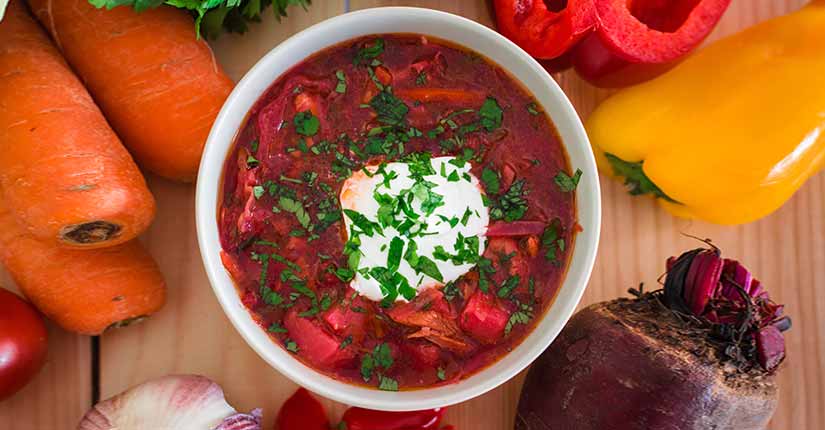 Winters are the best time to sip on a bowl of nourishing soup. This beet soup is easy to prepare, nutritious and delicious soup. The earthy and strong flavour of beet goes well with the dressings to make an authentic soup that's famous in Europe.
Nutritional benefits: Beetroot is a very good source of fibre, vitamin C, potassium, iron and folate. Antioxidants in the beets are good for immune system, skin and iron has various important functions.
Ingredients:
100ml vegetable broth
1 teaspoon of coconut oil
20 grams beetroot (chopped)
1 teaspoon of homemade mustard sauce
¼ teaspoon of red chilli powder
5 grams garlic
1 teaspoon of tomato paste
1 tablespoon dill( if available)
10 grams cooked lentil
10 grams cooked chickpea
1 teaspoon of lemon juice
Salt and black pepper as per taste
Yogurt and coriander leaves for garnishing
Nutrition Info
Amount
Calories
116 kcal
Carbs
10.7 grams
Protein
3.5 grams
Fats
7.1 grams
Method:
Take a pan; drizzle some oil and sauté some garlic, red chilli powder, salt and pepper for about 5 minutes.
Add in the tomato paste, mustard sauce, beetroot and vegetable broth; bring it to boil.
Let it cook for 20 minutes on simmer flame until the veggies are soft.
Remove the pan from flame and let it cool down.
Scoop off the veggies from the pan and blend in the food processor.
Then combine the cooked chickpeas, lentils, lemon juice and veggie paste in the pan; stir to mix well.
Garnish with some coriander leaves and yogurt.
Serve this soup warm with crusty multigrain bread!
Over to you: The hearty combination of beets, veggies with chickpea and lentils are great for winter days. This definitely will become your all-time favourite soup due to the richness of the flavours present in it.