5 Healthy Navratri Snack Ideas
By Nmami Agarwal 18-Oct 2020 Reading Time: 5 Mins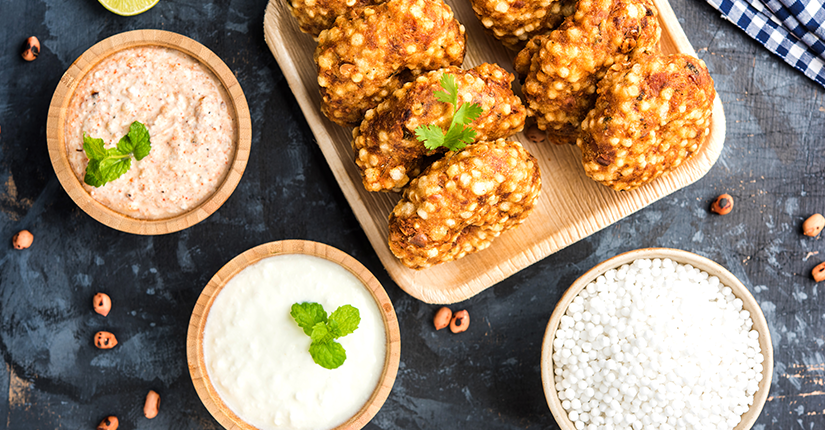 Navratri, the auspicious 9-day festival of worshipping goddess Durga, is also well-known for the food. It is full of flavour, sweets, and snacks. But with many people undertaking the fast, it becomes important to check on the health part of the food cooked. As the Maha Navratras also marks the change of season and hence slow digestion, it is essential to opt for a healthier and easily digestible version of snacks.
Read on to stumble upon your favourite option of snacking this Navratras.
Cold-pressed vegetable and fruit juices.

Cold-pressed juices offer a variety of nutrients and fibre. They not only are easy to digest but also aid in detoxification, which is a celebrated angle of fasting in Navratri. Juices will keep you full for a longer period of time and well-hydrated too. One alternative that you can opt for is kiwi and sea buckthorn. Kiwi is loaded with vitamin-C, fibre, polyphenols, and antioxidants, while sea buckthorn has potent omega fatty acids. Other variants include beetroot, apple and carrot juice, and green juice made from cucumber, celery and ginger.

Makhana.

Fox nuts or makhana are rich in flavonoids which reduce inflammation in the body. It is also rich in potassium that helps in maintaining stable blood pressure. Being rich in calcium, it fulfils the daily requirement of the same in the body. The low-fat and good carbohydrates content will keep you satisfied for a long time. You can just roast them in some ghee, sprinkle on little black pepper and salt- to enjoy as a healthy snack.

Dry fruits.

Dry fruits like apricot, prunes, raisins, and figs are the essential powerhouses for people fasting in Navratri, as keeping the blood pressure in control is the most important thing. They are also packed with fibre and antioxidants that work their way to keep you full and energised during the day.

Sabudana.

Sabudana again is a potent source of potassium that helps in keeping your blood sugar levels stable. It also promotes healthy blood flow and lowers down the strain on your heart. Since it is low in cholesterol and high in protein, it can be had guilt-free. You can make sabudana and peanut khichdi in ghee for a healthy, filling snack option.

Coconut milk fruit custard.

This is healthy and a lighter version of normal fruit custard. All that you need to do is- make some home-made, fresh coconut milk by adding soft dates for sweetness, cut fruits of your choice (good combinations include apple, pears, pomegranate, and banana), also mash a banana for thickness, add some Kesar, and cardamom powder, chia seeds(let them soak for 15-20 minutes before consumption), and voilà. The right fruit combination will be easy to digest and immensely flavourful. Alternatively, you can make a smoothie out of it.
Over to you.
Snacks are the most important time of the day. One needs to be mindful of the choices made, especially with the chilly autumn striking in- maintaining a healthy balance in the body is important. Include the above snack options for a healthy, light and energetic Navratri.