Covid Vaccination For Teenagers:5 States Have Administered Most Shots
By Nmami Agarwal 29-Jan 2022 Reading Time: 3 Mins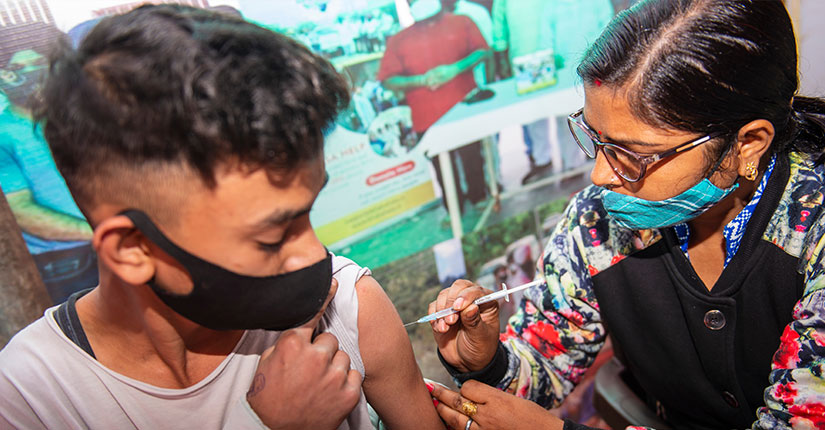 As stated by the World Health Organisation (WHO), millions of lives are being saved with the help of vaccines. Vaccines train and prepare the body's natural defences, the immune system to fight against particular bacteria, viruses, or diseases. Vaccines against Covid-19 for teenagers have been allowed to administer to children in the age group of 5 to 17.
According to the health ministry, around 1,27,60,148 teenagers in the age bracket of 15 and 17 have got their vaccine shot. 40 lakh of which were jabbed in the last 24 hours. In the first 11 days, 42% of teenagers who are eligible have taken the vaccine.
The government is appreciating the efforts and work done in the matter of vaccination and its management. "Superb enthusiasm among young India", tweeted by the Union Health Minister to appreciate this achievement of getting vaccinated.
There are states that have administered over 1 lakh vaccines and some states that have given over 10 lakh vaccines, since the start of the drive.
According to the latest numbers, these are the 5 states that have administered the most Covid-19 vaccines to teenagers:
1- Uttar Pradesh: 43.35 lakh
2- Madhya Pradesh: 27.55 lakh
3- Bihar: 25.03 lakh
4- Maharashtra: 23.94 lakh
5- Rajasthan: 23.68 lakh
The country is combatting the Omicron variant, which is highly infectious as it has been classified as a 'variant of concern' by the WHO and vaccination is extremely vital to decrease the risk of getting this virus.
The number of cases has been rising with every passing day, whereas Maharashtra and Delhi have been the most-affected states by the virus, until now. India has reported over 3 lakh new cases. Making the total number of active cases 22.23 lakhs. The government is already doing its bit to administer vaccines but many of the private schools are also organizing vaccine camps for their students. Being vaccinated does not mean that we can be like free birds. The pandemic and the spread are not over yet. Apart from getting vaccinated, it is also necessary to take all the precautions like wearing a mask, maintaining social distance, sneezing in a bent elbow, and avoiding any public gathering.
Footnote:
Vaccines are a crucial tool for fighting off the Covid-19 virus. Let's be responsible and do our bit in controlling the virus by getting jabbed!