Suffering from Premature Hair Greying? Here's How to Fix it Naturally
By Nmami Life Editorial 27-Jul 2020 Reading Time: 5 Mins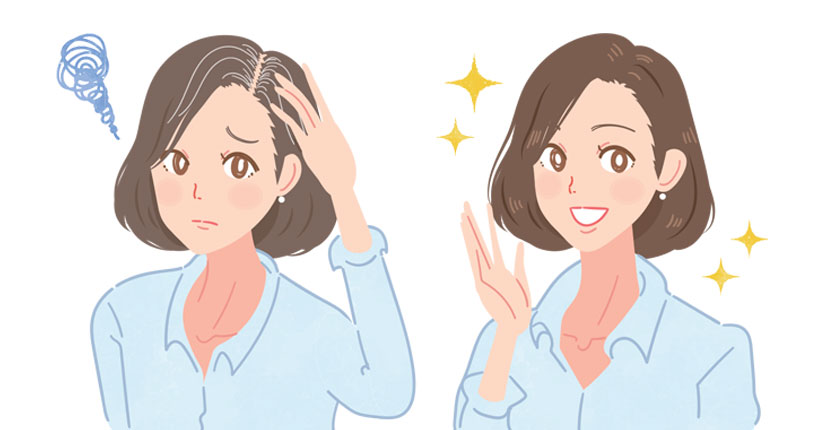 Over few decades, premature greying, also called as canities of hair has become a cause of concern for young people. Premature hair greying is having grey hair in early 20s and it is not uncommon anymore. While natural greying of hair with age is caused when your hair follicles stops producing melanin — the pigment that gives hair its colour, the reasons for the early onset of this remains a major cause of worry for the most.
Common causes
Genes are one of the most common reasons for having grey hair in your early 20s. In such cases, there are less chances of being able to change it.
Hypertension, stress, and anxiety are leading causes of premature greying of hair. The hair you lose due to a stressful event, such as chemotherapy, may grow back grey.
Early appearance of grey hair could be due to deficiencies of vitamin B, zinc, and copper. This is because these nutrients are responsible for the metabolic process involved in giving hair its natural colour.
The air pollution that we encounter everyday could also make our hair strands weak. After passage of time, it can lead to grey hair.
Smoking leads to free radicals formation in the body. These free radicals are responsible for causing oxidative stress, leading to decreased melanin, which promotes greying of hair.
How to fix it naturally?
Make sure that your diet contains good amount of green vegetables. Increase the consumption of spinach, broccoli, celery, capsicum, cabbage, cucumber, and other green leafy vegetables.

Have sufficient intake of fruits such as orange, melon, and strawberries, all of which contain vitamin C, and can slow the process of premature greying of hair.
Walnuts have biotin (vitamin B7) that helps strengthen hair, reduces the occurrence of premature grey hair, and improves hair growth to a certain extent. Consume almonds and other nuts, rich in vitamin E and proteins, in your diet which are rich in good fats, required to improve hair growth and texture.
Use mustard oil for cooking as it is rich in Omega 3 fatty acids which is important for hair growth and strong, lustrous hair. It also helps to reduce the problem of premature greying of hair.
Massage your hair with any oil of your choice at least once a week. Then risne your hair with a mixture of 2 teaspoon of shikakai powder, ½ teaspoon reetha, and ½ teaspoon amla powder with water.
Curry leaves and henna also help in dealing with greying of hair. You can make a paste of this along with your favourite hair oil. This mixture acts as an anti-aging mask for your hair.
Use almond oil to massage your hair, as it is rich in proteins and vitamin E, which are important nutrients for hair health.
Avoid using harsh shampoos. Switch to mild shampoos instead, or better yet, organic shampoos. The harsh chemicals in shampoos and conditioners are known to damage hair follicles, causing hair fall and greying.
Brew 5-6 teaspoon of black tea leaves in hot water and when it cools, mix it with your regular hair conditioner. Apply it on your hair and leave it on for 1-2 hours to cover grey hair.
Over to you
Normally, greying of hair starts when you are in your late 40s and early 50s. Religious hair care and a balanced diet can slow down and possibly reverse grey hair. Consult your doctor about treatments, or remedies if you want to stop premature grey hair from growing.