Breastfeeding Boost – 5 Reasons why breastfeeding is beneficial for mothers
By Nmami Agarwal 04-Aug 2022 Reading Time: 4 Mins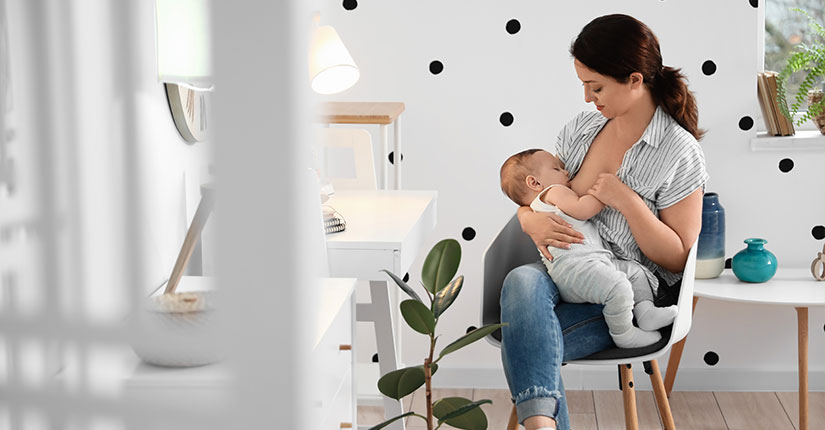 Breastfeeding is an essential phase in the childbirth journey. Breastfeeding has endless benefits for both mothers and Baby. There have always been many myths about breastfeeding which makes a new mother into a dilemma about whether they should breastfeed a baby or formula feeding. Breastfeeding is very essential for a baby as it is nutrient-dense and builds the immunity of the baby stronger. It may take some time for both child and mother to get comfortable with breastfeeding and its position but benefits measures are way more in breastfeeding.
Breastfeeding is very essential for the mother to stay healthy. Here are 5 reasons why breastfeeding is beneficial for mothers –
Breastfeeding helps in weight loss – Breastfeeding promotes faster weight loss. Building and maintaining a milk supply helps in burning more calories and results in weight loss. However, in the initial period of 3 months calorie intake should not be reduced, and heavy workouts should be done. The mother should ensure to have a healthy and nutritious diet and enough sleep to be able to nurse the baby well.
Breastfeeding helps in lowering post-partum depression – Post-partum depression may get developed among some women. They go through physical, and emotional changes which may lead them to depression. Breastfeeding mothers are less likely to face post-partum depression than those feeding on formula milk. A mother may find it difficult to breastfeed if postpartum depression develops early, however it can be for a shorter period and treated.
Breastfeeding helps in Uterus Contraction – The uterus expands immensely during pregnancy and after pregnancy, the uterus goes into involution which helps the uterus to return to its previous size. Oxytocin is a hormone that the body secrets high during labor that helps in delivering the baby and reduces bleeding. Oxytocin helps in increasing breastfeeding and contracting the uterus.
Breastfeeding helps in reducing the disease risk – Breastfeeding helps in protecting against diseases like breast and ovarian cancer. Also other diseases and health-related risks of type 2 diabetes, high blood pressure, high blood fats, and arthritis.
Breastfeeding saves on money and time – Breastfeeding is free, barring any optional expenses for lactation consultation and breast pump in case required. Breastfeeding saves the money spent on formula feeding. Breast milk is at the right temperature and ready to drink whereas, preparing formula milk, warming up, bringing it to the right temperature, and spending time cleaning and sterilizing bottles.
Over To You:
Breastfeeding weighs more beneficial and healthy for Mothers and should be encouraged rather than opting baby to feed on formula milk.