5 Soups to Keep you Warm and Cosy in Winter
By Nmami Agarwal 24-Nov 2021 Reading Time: 4 Mins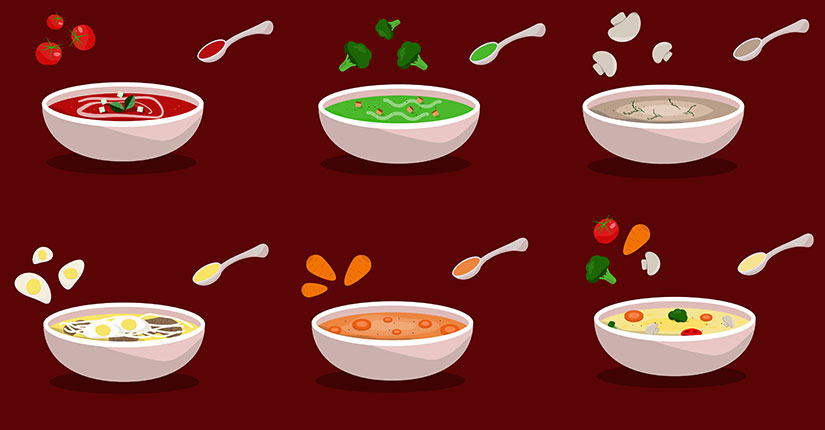 When we think of winters, one of the first images that come to our mind is a hot steamy bowl of soup. It preserves the real essence of winter. A warm bowl of soup is easy to make and helps comfort the body and satisfies the soul during the season. Here are some of the suggested soups to try this winter-
Carrot-Pumpkin Soup
Carrot has a source of beta carotene, fiber, potassium, antioxidants, and has several other benefits as well, they are known to keep blood sugar levels low and help in keeping diabetes under control. They also help in strengthening bones and have a good amount of Vitamin K and Calcium. For this recipe, chop a medium-sized onion and four cloves of garlic, fry them in a pan with olive oil and add a cup of chopped pumpkin, carrots, and parsley roots, add two and a half cups of vegetable stock to it and let it boil. You can blend this and season it.
Cream of Broccoli
Fresh greens are the perfect winter soup recipe, this healthy delight is easy to make. Saute a cup of onion and celery in oil and add broccoli florets to it, and saute for a minute. Add three cups of vegetable stock and let it simmer for 10 minutes, once it is done, let it cool down and blend. For a richer flavor, you can heat another pan and heat some butter, add flour and milk and add the soup on top of it. Season it with salt and pepper. Broccoli has many health benefits.
Sweet Potato soup
Begin with sauteing a cup of chopped onions, add four cloves of garlic and let it cook, add chopped carrots, and add three medium-sized sweet potatoes diced, after stirring for a while, add vegetable stock and season with cumin powder, turmeric, pepper, salt, and Italian herb mix, let it boil and then blend later when finished. Sweet potato has a high amount of vitamin A and other vitamins and minerals, like iron, magnesium, and potassium, etc.
Miso Soup
A delicacy from Japan, Miso soup consists of dashi powder in water which acts as stock, and softened miso paste, which is a combination of fermented soybean, rice paste, barley, and their special ingredient Koji kin, a type of fungus and salt. Miso paste is aged from six to thirty-six months. It may sound unappealing, but it helps digestion, fights infections, and acts as a probiotic. You can always add tofu, green onion, and mushrooms.
Pho
Originated in Vietnam, it consists of broth, rice noodles, herbs, and meat. Pho is popular and became famous throughout the world after the Vietnam War. Refugees brought the dish to other parts of the world. There are many variations of the soup around the world.
There is always a variety of healthy dishes when we try to experiment with healthy eating. Find your recipe that suits your taste buds.