5 Delicious Recipes You Must Try This Gudi Padwa
By Nmami Agarwal 02-Apr 2022 Reading Time: 6 Mins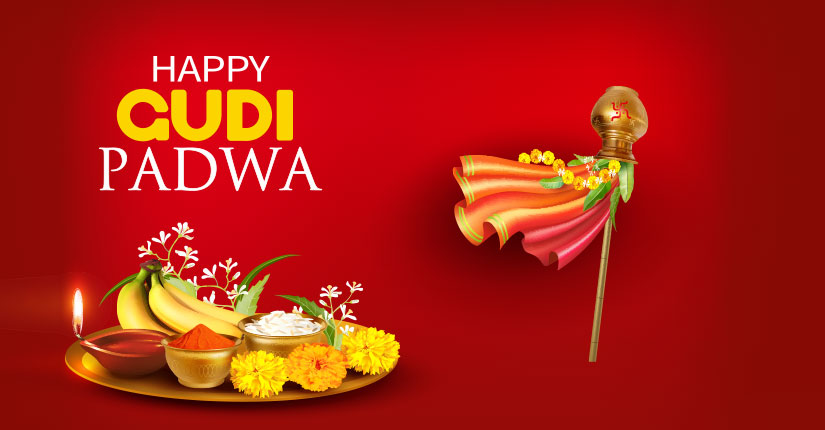 Gudi Padwa is a festival which is celebrated in the spring season. It marks the beginning of the New Year for the Maharashtrians and Konkanis. Gudi Padwa is also called the first day of the brightest phase of the moon.
A Gudi flag is also made which has neem leaves in a vessel, stuck with bamboo stick and is tied up with a silk scarf. A sweet gaathi (sugar candy garland) is also hung with it.
Houses, courtyards are cleaned, rangolis are made, people dress up in new clothes and various delicacies are cooked by the families. The sweet jaggery or gur ("gul") is the main ingredient in many of the dishes to mark the sweet experiences of life.
Here are Some Recipes You Must Try This Gudi Padwa:
Til gul or Til gud- It is a laddoo made with til (sesame seeds) and gud (jaggery). They both together can be an unbeatable mix to fight the changing season and boost energy levels.
Recipe- Pour some ghee in a pan and melt jaggery in it, then add sesame seeds and cook for a few minutes. Let them cool on a plate and then make laddoos out of it. Share it with family & friends.
Don't forget to say "Til gul ghya god god bola" which means 'take sweet talk sweet'
Puranpoli- Nothing can be as soul-warming as 'puranpoli'. It is prepared with chana dal and jaggery mix stuffed in paratha. It is rich in protein, fiber and iron.
Recipe- Melt jaggery in a pan with some ghee, add fennel seeds (saunf), ginger powder (saunth), cardamom powder (elaichi). Add the blended chana dal (boiled) in it and cook for a few minutes.
The stuffing is ready. For the dough, mix refined wheat flour, salt and ghee with some water and knead it.
Make balls out of the dough and fill with stuffing like you do with paranthas and cook them on tawa with some ghee.
Serve hot with ghee and cold milk.
Shrikhand- It is a traditional dessert made with hung curd and sugar. To add flavors, you can add elaichi, kesar, pistachio, almonds etc.
Recipe- Hang some fresh curd in a muslin cloth and let it drip it's water.
Add some sugar, elaichi and nutmeg powder and give it a mix. Serve with almond and pistachio topping.
You can serve it as a side dish or dessert to make it a complete meal.
Sabudana vada- it is another most favorite Maharashtrian delicacy. As the name says, it is made with sabudana, in a fried form and served with chutney.
Recipe- Mix soaked sabudana(sago), boiled potatoes, peanuts, green chillies, lemon juice, salt and make tikkis out of it. Now take some refined flour, coat the tikkis with it and fry in oil. Soak the excess oil, serve with chutney and chai.
Sheera or kesari bhaat- A sweet delicacy to celebrate with. It is classically made with semolina, sugar, ghee, milk and water. Kesari bhaat can be made with rice, mango or banana.
Recipe- Roast cashews and almonds in ghee and add soaked rice, sauté it. Add water to the rice, kesar water, sugar and keep cooking till the water is fully absorbed. Garnish with dry fruits and serve.
Footnote:
Gudi Padwa is a lot about yummy delicacies and it is one of those days where you can enjoy these recipes without any guilt. These are not only tasty but time-tested traditional dishes to eat with full pleasure.
On a healthy note, try using jaggery instead of sugar, stir fry instead of deep fry and use less salt so that it doesn't add to excess calories leading to weight gain. Enjoy the festival guilt free!