VITAMIN IV DRIPS- ARE THEY EFFECTIVE?
By Nmami Life Editorial 29-Nov 2020 Reading Time: 5 Mins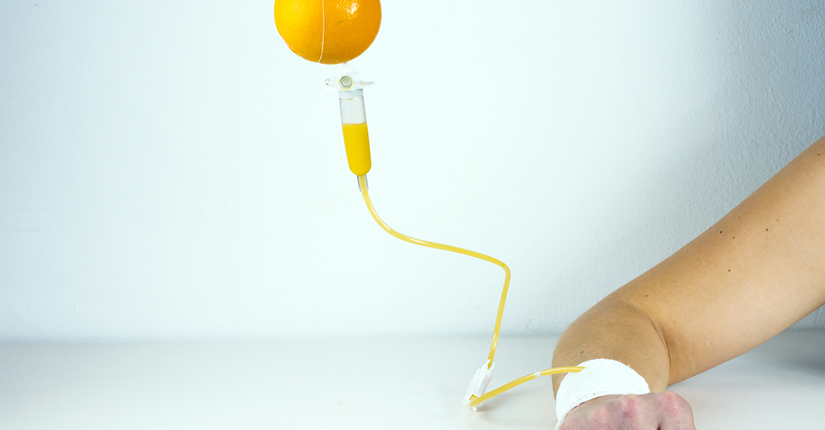 WHAT IS VITAMIN IV THERAPY?
Vitamin IV therapy is performed by injecting a mixture of potent vitamins, minerals and other nutrients directly into your bloodstream, providing you with boosting your immune system, reducing your physical signs of ageing and cleansing your blood to get rid of toxins.  This therapy has proven that it provides more nutrients as you avoid the digestion process. These injections are customized based on the perceived needs of the patient. These are meant for adults from age 18-65. It usually takes 45 minutes-1 hour for this treatment.
WHY ARE THEY INJECTED:
It is used to hydrate patients.

Administer essential nutrients if there is an issue of gut absorption.

Doctors often inject these shots, when the patient is not able to eat or drink during surgery.
WHY YOU NEED IV THERAPY?
IV drips are administered through the intravenous route and enter directly into the bloodstream. These vitamins go through your digestive tract. This breaks the nutrients into smaller portions. This maximizes the benefits that your body will receive.
ARE THEY EFFECTIVE?
In recent years Indigenous Vitamin treatment has gain popularity. From celebrities to influencers, everyone has gone through it. Below we have listed a set of benefits that IV therapy provides:
Helps in boosting immunity—IV vitamins can help you boost up your immunity as they are a mix of much-needed vitamins for your body. It helps you gain vitamins like, vitamin-e vitamin-d and vitamin b-12, which works great to build your immune system strong!
Fights exhaustion—If you are feeling tired and lethargic, one shot of this will make you feel euphoric. If you are facing fatigue or you are having that Sunday morning hangover. These shots work wonders.
Good for people having a gastrointestinal problem—Its works well for people, whose stomach cannot absorb some of the much-needed nutrients. So infusing this inside their bloodstream is a good option.
IS IT MORE EFFECTIVE THAN TABLETS?
Yes, it has proven to be more effective than tablets because of the following reasons:
A vitamin that is taken from mouth gets down into the stomach, and only 50% of it is absorbed. But these shots provide with 90% of the absorption. 

When a person goes through this treatment, they receive vitamins in a liquid form, which makes it easy for the blood cells to absorb nutrients. This allows nutrients to get absorbed quickly and directly, which helps you fights illness and maintain health. But in case of regular vitamin tablets, it takes time for your body to receive the nutrients.
OVER TO YOU:
We should infuse quantities of vitamins and minerals needed by our body via natural fruits and vegetables. Obtaining vitamins and minerals from your diet is much easier, cheaper and safer. Until and unless your doctor has prescribed the offerings of these shots, you must not inject it. The ultimate goal of these shots is to help you get rid of unwanted toxins, freshen you up and help you gain nutrients. It is always better off obtaining vitamins and minerals through food.