Appetizing Papaya Kebabs With Plum Dip
By Nmami Agarwal 15-Oct 2021 Reading Time: 3 Mins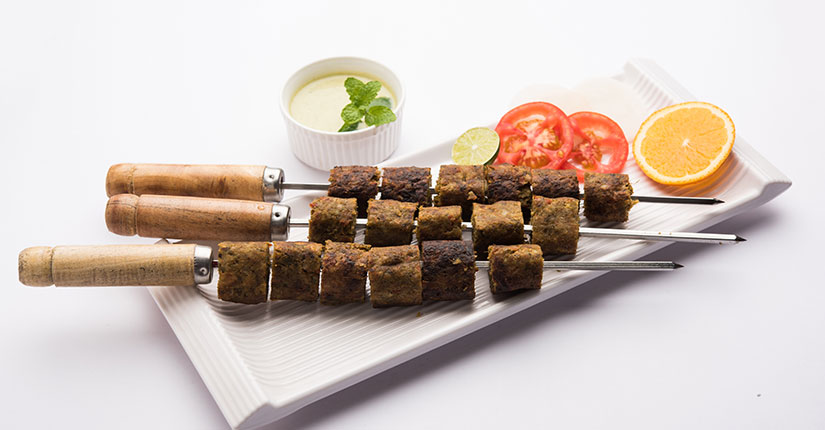 These are the perfect munching and are great for adding to a kid's diet. It has a great combination of raw papaya with potato to treat the taste buds that goes very well with the plum dip.
Nutritional benefits:
Plum is an assortment of antioxidants along with crucial vitamins such as vitamin A, vitamin C, vitamin E, and vitamin K. Nonetheless, plum is an excellent source of vitamins B1, B2, B3, and B6. And not forgetting about the dietary fibers that give the feeling of fullness. Adding plums to the diet aids in better digestion gives relief from anxiety-related issues, boosts immunity, enhances cellular health, and most importantly aids in treating diabetes. Raw papaya is very nutritious and aids digestion repairs the cells and soothes inflammation.
Ingredients:
10 grams potatoes
20 grams raw papaya
½ teaspoon turmeric powder
½ teaspoon red chili
10 grams plum
1-star anise
5 grams coconut sugar
5 grams ginger
½ teaspoon cumin
1 teaspoon coriander seeds
1 teaspoon besan
1 green chili
1 teaspoon black salt
½ teaspoon black pepper powder
Salt as per taste
Calorie Count
Calories: 58 Kcal
Fat: 0.6 grams
Carbohydrates: 12.3 grams
Protein: 1.4 grams
Method:
Start by peeling the raw papaya and potatoes and adding in it some salt, turmeric powder, red chili powder, and mix well. Keep the mixture aside for 10 minutes and after that squeeze out the water released.
Now add the ginger, green chili, besan, cumin, and coriander seeds to the mixture and roll into balls.
Now, bake or air fry the balls as per choice until it is cooked on both sides and serve with plum chutney.
For preparing the plum chutney, cut the plums and add star anise and some coconut sugar, and heat it in a pan on low flame.
After the chutney has cooked add in some black salt, pepper and mix well.
Allow it to cool and enjoy the kebabs with the chutney
Over to you:
These are the perfect and handy snack to grab on when hungry for that healthy and nutritious punch